Luleå is a duo chrome hot pink shade with a blue shift which looks beautiful on all complexions.

How to use:

Peel to reveal your new favourite vegan lip colour with our range of naked, refillable lipsticks! Pull the black wax tab upwards as far it will go. Remove the black wax from the base of the refill and position the bullet of colour into your lipstick case. Finally, remove the remaining wax by gently peeling the wax sleeve away from the lipstick. Visual learner? Don't worry! Take a peek here to see how it's done.
Our 100% vegan lipstick contains a host of non animal tested, skin loving ingredients such as creamy, hydrating Castor oil which is expertly combined with long-wearing, cruelty-free pigments for stand-out lip colour.
This shade of lipstick is exclusively available online
How I'm Packaged:
While my wax coating keeps me fresh and clean, for added protection in online orders I'll arrive in a recycled paper bag.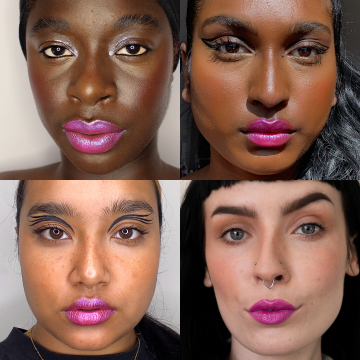 List of ingredients
Natural Ingredients
Safe Synthetics
Product Code: Lipstick Refill
Availability: In Stock
Tags: Lipstick Refill